For a relaxing stay in the mountains
The Hotel Les Mélèzes is located at the entrance of the village of Les Haudères at an altitude of 1'450 m at the foot of the Dents de Veisivi.
It was built according to the typical architecture of the village. The wood panelling, the stone and the warm decoration add to the charm of the house. During the beautiful season, you can admire the façades decorated with flowers and enjoy the sunny terraces.
Give us a call!
+41 27 283 11 55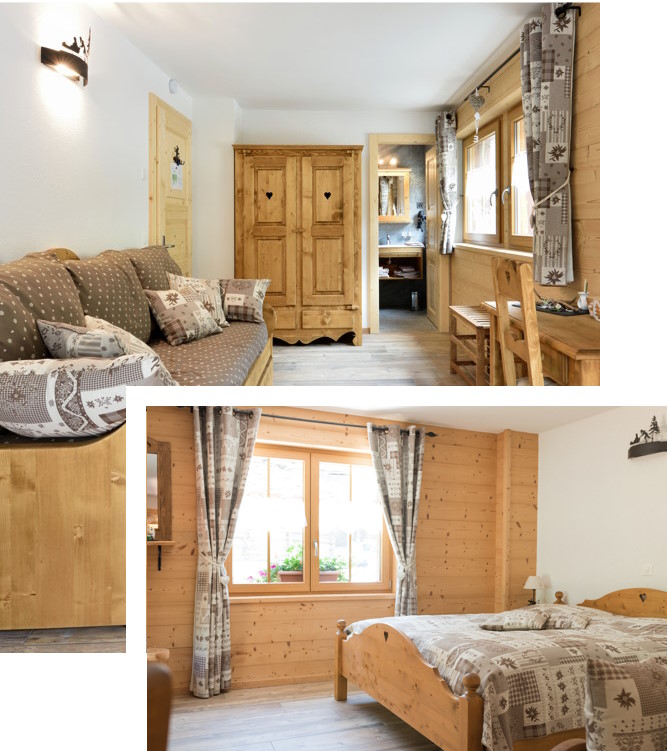 Our rooms offer you a typical decoration that will enhance the authentic character of your stay in the mountains.
Set on a sun terrace, a hot tube and a sauna await you to recover from your day of sport or leisure.
Discover a variety of sights and natural beauty in the region in summer and winter.
For breakfast we offer local or homemade products.
Built in 1965 by Henri Anzévui and Cathy Gaspoz, the hotel is now run by their daughter Claudia and her husband Michel, who have put all their passion into taking over and renovating the family business.
Visit our hotel with our 360° panoramas!
We have special offers for you to discover the region and its traditions.
You can also opt for a gift voucher to please your loved ones.